In the middle of "spring" cleaning and wondering if the blinds need a refresh? 
When it comes to roller blind cleaning, the process depends on one important factor: the fabric. We offer a huge range of fabric materials, colours and textures here at Pazazz, and we want to see your roller blinds go the distance — so we've put together a quick guide to roller blind cleaning at home based on common fabrics in our collection.
By following these simple cleaning techniques, you can maintain the look and longevity of your roller blinds easily!
Blockout fabrics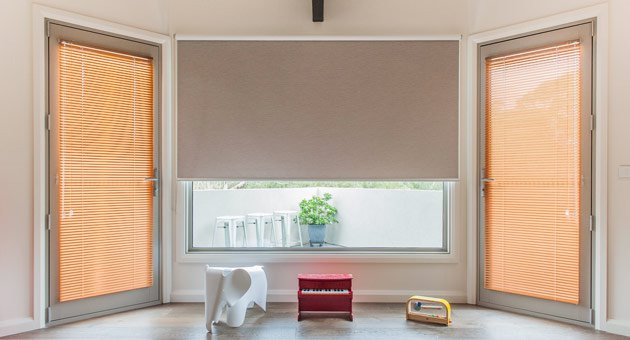 Blockout blinds can be smooth or textured, and both have their own cleaning guidelines. For example, smooth blockout blinds are quite simple to clean — wiping them down with a gentle surface cleaner and a chux/microfibre cloth should be enough to keep them looking fresher for longer. 
However, textured blockout blinds need a little more TLC as the fabric is more delicate. Instead, regular dusting or wiping them down with a microfibre cloth is recommended, and baby wipes for spot-cleaning. 
If you're in the market for a new set of blockout blinds, it's important to remember that while textured blinds are more complicated to clean, the texture means you won't notice the dirt or marks as much. You won't need to clean them as often as smooth fabric!
Sheer & light filtering fabrics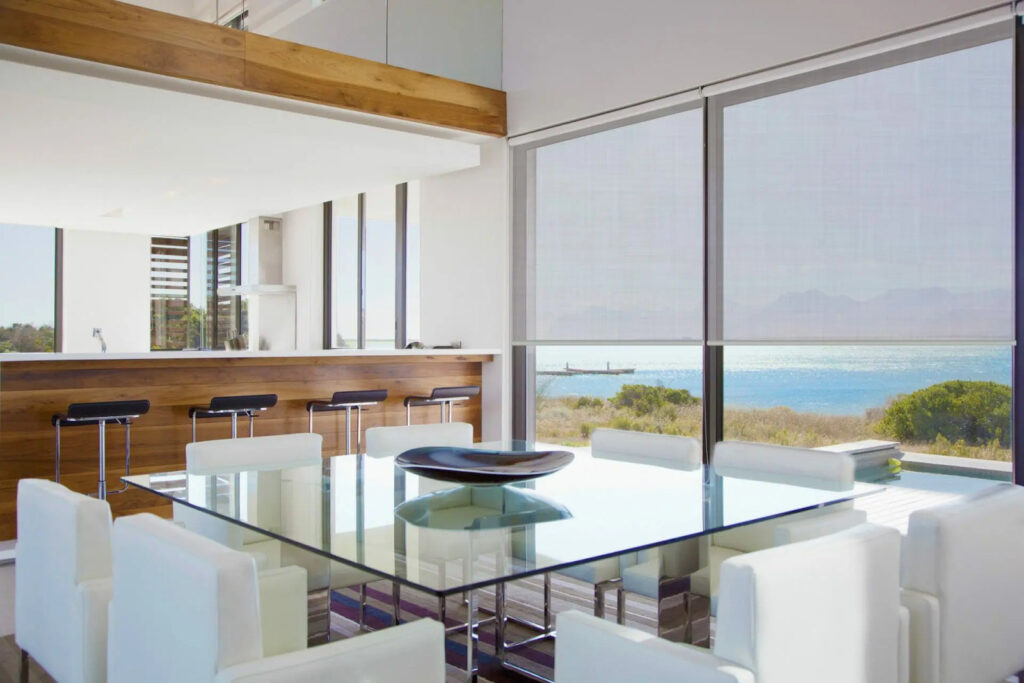 Sheer and light-filtering roller blinds have a similar texture to blockout blinds, so it's important not to get them damp. Instead, we recommend: 
Regular dusting. This will keep your roller blinds looking fresh and vibrant without having to resort to more intense cleaning. Once a week should suffice.
Light vacuuming. You can vacuum sheer and light-filtering blinds with a light attachment and very low suction. However, dusting is a much safer option for this delicate fabric.
Spot-cleaning. Accidents happen (especially in the kitchen), and we understand the urgency to clean potential stains ASAP! If this happens, we recommend light spot-cleaning with baby wipes. Be sure not to let the fabric get too damp, and pat the area dry immediately afterwards to remove any excess liquid.

Steam cleaning. You can steam clean sheer fabrics, but it's crucial not to use direct steam as this will make the fabric damp. A light steam clean should do the trick. 

Not sure what's best for your sheer or light-filtering roller blinds? Feel free to get in touch with the team from Pazazz. We'll provide professional recommendations and advice to ensure your blinds continue to look sleek and stylish.
Mesh fabrics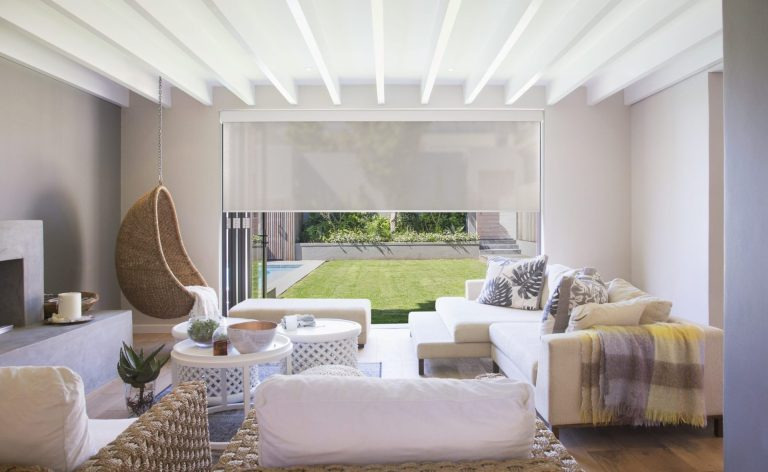 Mesh roller blinds are some of the easiest to clean. Because this type of fabric has a very similar outdoor version of itself, the fabric is quite smooth and resilient, and you can get them wet without running the risk of damage. We recommend wiping them down with a soft cloth (e.g. a chucks cloth or microfibre cloth) and warm soapy water. 
In terms of soap products, you can use anything that doesn't include bleach or harsh chemicals in the formula (for example, a standard surface cleaner). This will ensure the colours remain rich and consistent.
How to remove blinds for cleaning
A common question we get about roller blind cleaning is "How to get blinds down". From experience, the simple answer is: "Don't!"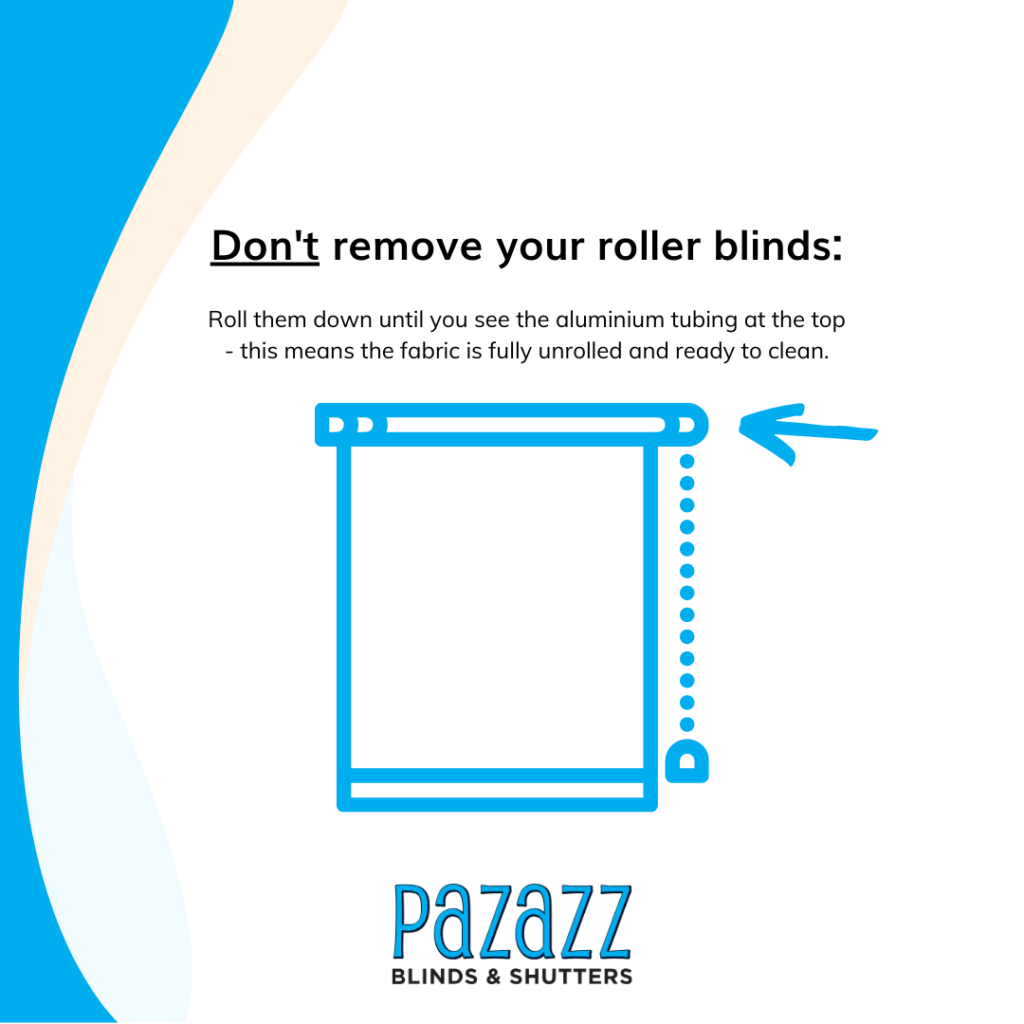 While taking the blinds down might be easy, putting them back up is a different story. You will need to consider the tension of the blinds, and re-installation is not a simple task — instead, we recommend rolling the blind all the way down until you see the aluminium tube at the top. This means all of the fabric is visible, and it can be cleaned from there. 
NOTE: Be sure to stop rolling the blind once you spot the aluminium tubing. Continuing to roll the blind after the aluminium tube becomes visible will start to reverse the roll against its original rolling direction, which can damage the blind or cause long-term issues.

If you want a thorough clean, however, we recommend taking the fabric to a specialist roller blind cleaner. Blindfix in Newcastle specialises in servicing and cleaning existing blinds, and we highly recommend them for proper, thorough cleaning in the local area.
Upgrade to a fresh set of roller blinds with Pazazz Blinds & Shutters!
If your roller blinds are looking a little worse for wear, it might be time to refresh them with a brand-new set from Pazazz! We offer a huge range of colours, patterns, textures and designs, guaranteed to blend into your interior design perfectly. Plus, we offer automated options, so controlling light indoors (and outdoors) is easier than ever. 
Book a free measure and quote with Pazazz Blinds & Shutters! Our team can come to your location with samples and professional advice in tow.