Automatic Awnings Newcastle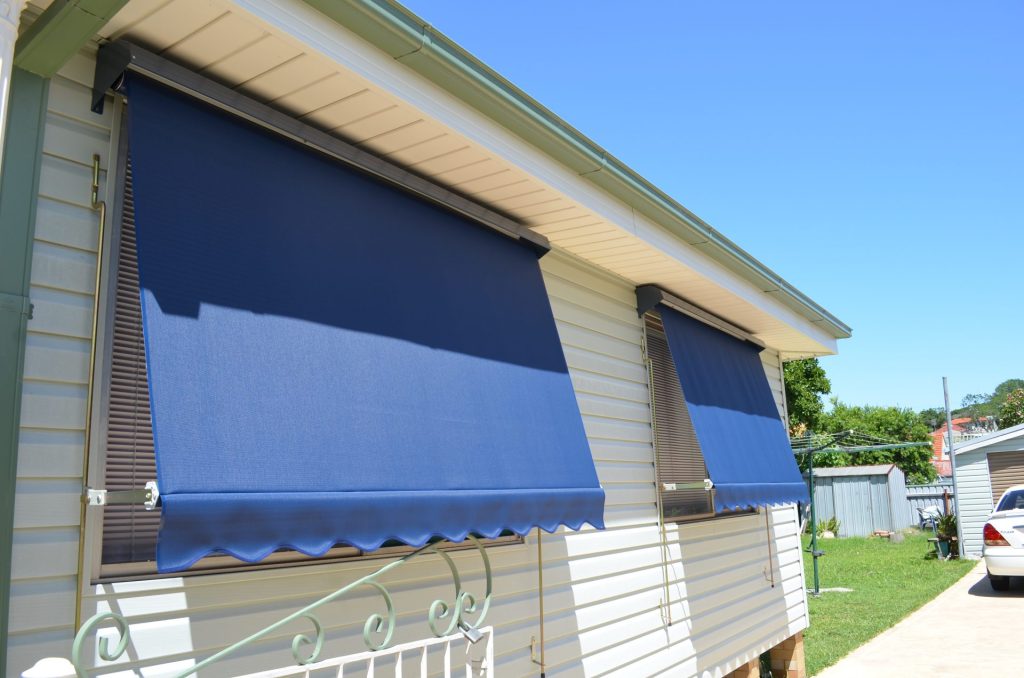 Clever and convenient, Automatic Awnings are perfect for Newcastle & Hunter homes
If you're looking for convenient window furnishings that take care of themselves in windy weather, look no further than our Automatic Awnings! A popular option for all Australian homes, our Automatic Awnings respond to high winds and roll themselves up to keep the Awning fresh and functional. 
Plus, with a huge range of fabric options and componentry colours, you can customise these Awnings to match the existing aesthetic of your home's facade. 
Contact
the Pazazz Blinds & Shutters team for a free design consultation today! We can visit homes throughout Newcastle, Lake Macquarie, Maitland, Port Stephens and the Hunter Valley.
Contemporary and convenient, Automatic Awnings can be installed on almost any window!
Automatic Awnings combat Australia's harsh, unpredictable weather conditions using clever lock-arm technology. In high winds, the lock arms release, allowing the blind to push itself up to the top of the window. This is handy when storms hit unexpectedly, and you aren't home to retract them or simply forget to do it while you're home!
Automatic Awnings were developed in the 1970s and still keep up with today's newer, more expensive retractable Awnings. In fact, Auto Awnings are considered a "cornerstone" of the Australian Awning industry. 
When you're relaxing at home, you can also control your Auto Awnings manually. Thanks to the manual operation system, you can pull your Awnings down to any stopping point and leave them there as long as you like! 
Plus, if you have Auto Awnings installed higher than usual, you can add a pull stick for easy operation from the ground. 
Contact Pazazz Blinds & Shutters to book your free design consultation today!
Our Auto Awnings are available in three heavy-duty fabrics to withstand the elements: mesh/screen, acrylic and canvas. No matter what you choose, you can count on excellent light control, protection from the elements and full control over privacy in your home. 
During our initial design consultation, we'll share hundreds of fabric samples and colour combinations so that you can compare fabrics to the current aesthetic of your home's facade. 
Aside from our quality fabrics, you'll also have the opportunity to customise the powder-coated componentry of your new Awnings. We have 15 rich, vibrant colours to choose from, or you can opt for a custom powder coat from the Dulux Colorbond range if our standard colours don't fit the space.
Create a traditional Australian design that blends into the neighbourhood, or opt for something fresh and contemporary. The choice is yours with Pazazz Blinds & Shutters — Custom Awnings are our specialty.
Still not sold? There are a huge range of benefits that come with Auto Awnings!
Robust and low-maintenance. Without being remote controlled or automated, these Awnings will automatically retract in high winds — so you can rest assured your Awnings will serve you well for years to come.


Excellent heat protection. Our durable fabric options repel heat, keeping the interior of your home cool in summer. Meanwhile, you will also maintain maximum airflow and shade where you need it most.


Quick and easy to install. Thanks to their clever design, our Auto Awnings are simple to install. On installation day, our team will be in and out of your home before you know it.


 Simple operation. Just pull the Awning down for privacy and protection from the sun, or retract the Awnings for complete visibility and sunshine. Add a pull stick for control over Awnings in high places. 
Contact us to book your free design consultation today! We'd happily visit your home to provide tailored recommendations and advice.
The initial design consultation
You're welcome to visit our team in our showroom in Warners Bay (15 minutes from the Newcastle CBD), or we can organise a convenient time to visit you at home. We offer free design consultations throughout Newcastle, Port Stephens, Maitland, Lake Macquarie and the Hunter Valley!
We'll take meticulous measurements of the space and help determine the best window furnishings for your home. We'll also listen to your design ideas and share fabric samples so that you can compare colours, patterns and designs to your home's facade. 
There's no pressure to make a decision on the day, either. We'll leave you with a quote and some samples to mull over for the time being!
During our initial design consultation, we'll take detailed measurements to provide a competitive quote. We never "guesstimate" when it comes to quotes — we base our prices on the product and the size of the window at hand. 
Remember, this is a 100% free service!
Once you have approved all the fine details of your new Auto Awnings, we'll send the designs to be manufactured in one of our factories in Australia or Asia. When they return to our showroom in Warners Bay, we'll be in touch to book installation!
All of our products come with a long warranty, which is why it's important for us to install the Awnings ourselves. We want to secure your warranty and ensure your investment functions perfectly for years to come. 
Plus, when we say we take care of everything, we mean it. We always clean up after ourselves and aim to leave your home looking better than when we arrived… Mainly because we just installed some stylish new Awnings!
Free in-home design consultation
About our Automatic Awnings
Docril & Dickson Acrylic Colours
D107 MANOSQUE DARK YELLOW
J179 CONSTELLATION BEIGE REVERSE
J177 CONSTELLATION CURRY REVERSE
J178 CONSTELLATION GREY REVERSE
J180 CONSTELLATION BLUE REVERSE
J172 BRUSH CARBON REVERSE
Barrington Canvas Colours
Standard Componentry Colours
All swatch examples shown are part of our core range, however, we do have many other options available and can source from other suppliers if necessary.
Actual product colours may vary, due to different device screen settings, the lighting in the installation location, and other potential factors.
FAQs about our convenient Automatic Awnings