Wire Guide Awnings Newcastle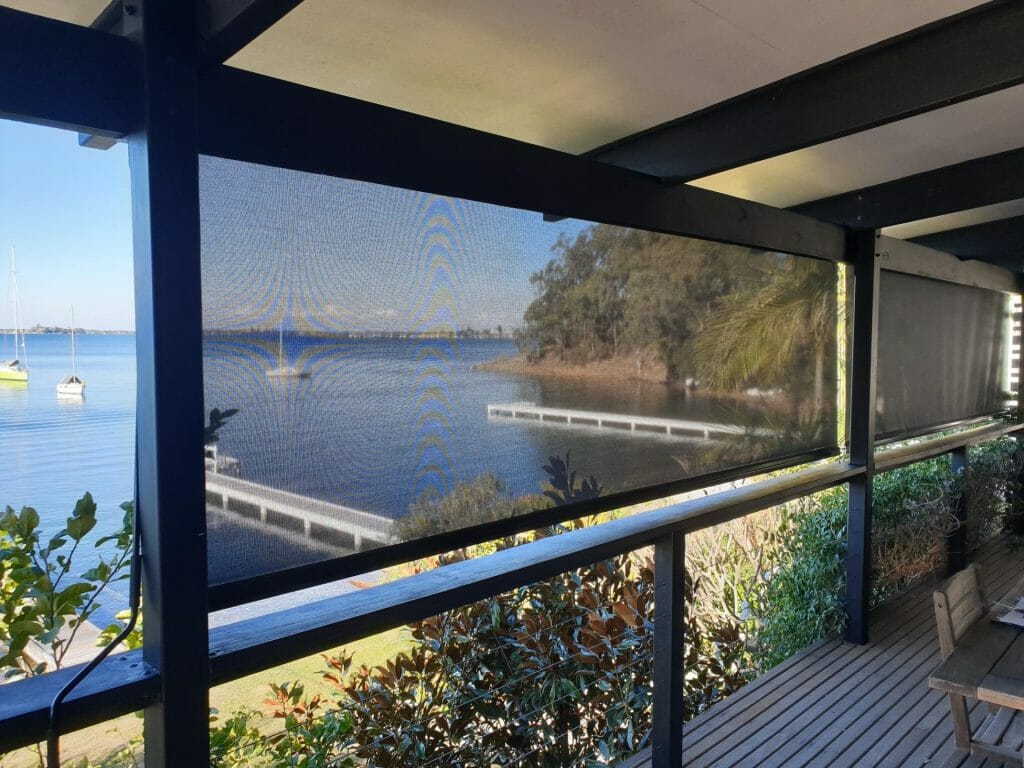 Add a touch of functionality and style to your outdoor area with Wire Guide Awnings
Looking for a practical and simple shade solution for your outdoor entertaining area? Look no further than our stylish Blinds with Wire Guides! Contemporary and easy to use, our Wire Guide Awnings are perfect for almost any outdoor area — alfresco areas, decks, balconies, windows, doors, you name it!
Contact us for a free design consultation today! We serve Newcastle, Lake Macquarie, Port Stephens, Maitland and the Hunter Valley.
Enjoy complete control over the elements with stainless steel wire guides
Wire Guide Outdoor Awnings are traditional straight-drop shades with stainless steel wires on either side, keeping the fabric taut and in position. The stainless steel wires also help to guide the fabric up and down, giving you complete control over the sunlight that spills into your outdoor entertaining area. 
We have two kinds of Wire Guide Awnings available: 
Traditional Wire Guide Awnings with a simple, effective bracket system. This cost-effective option can be controlled with a crank handle or motorisation and has a maximum width of 6 metres.
Acmeda Wire Guide Awnings with an optional slimline head box to hide the roll of the Blinds. This quieter, aesthetically pleasing option can also be controlled with a crank handle or motorisation and has a maximum width of 5.8 metres. 
Using the stainless steel wire guides, you can stop your Awning at any point, blocking the sunlight at the perfect angle while allowing the breeze to flow through underneath.
Our Wire Guide Awnings are customisable to blend into your home's facade or stand out as a stunning focal point. Available in mesh/screen, PVC, acrylic and canvas fabrics, we have hundreds of colours and patterns to choose from — even the head box and componentry come in a large range of stylish colours!
You can also choose how you will control your Wire Guide Awnings. We offer manual operation options, including a manual crank handle, a hardwired 240V motor or a solar 12V motor. The choice is yours with Pazazz Blinds & Shutters!
The initial design consultation
You're welcome to visit our showroom in Warners Bay (15 minutes from the Newcastle CBD), or we can organise a time to visit you at home! Our team will take meticulous measurements of the space and provide product recommendations while listening to your design ideas and unique requirements. 
We will also bring along hundreds of fabric samples so that you can compare colours, patterns and designs to your home's facade.
During our initial design consultation, we'll take measurements to provide a detailed, competitive quote. We never "guesstimate" our quotes — we base our pricing on the product, the customisation and the size of the space. 
There's no pressure to make a decision on the day, either. We'll give you a quote and some fabric samples to mull over before making the decision to purchase.
Once you have approved the finer details of your Wire Guide Outdoor Blinds, we'll send the designs off to be manufactured in one of our factories in Australia or Asia. When they return to our showroom in Warners Bay, we'll be in touch to book the installation! 
We offer a long warranty on all of our products, so it's important we install your Wire Guide Awnings ourselves. We have the expertise to secure your warranty and ensure your investment functions as well as we promised.
Free in-home design consultation
About our Wire Guide Awnings
Traditional
Features
Improved privacy
Perfect outdoor solution for Alfrescos, Decks, Windows & Doors
Flexible stopping points
Sun & weather protection all year round
Manually operated or Motorised
Huge range of fabric options
Specifications
Fabric types: Mesh, Acrylic, Canvas & PVC
Max width: 5640mm
Max height: 3500mm
Custom powdercoating available
Operation Types
Manual Crank
Hardwired 240V Motor
Solar 12V Motor
Guarantee
5 Year warranty on componentry
10 Year warranty on most fabrics
7 Year warranty on most Motors
Acmeda
Docril & Dickson Acrylic Colours
D107 MANOSQUE DARK YELLOW
J179 CONSTELLATION BEIGE REVERSE
J177 CONSTELLATION CURRY REVERSE
J178 CONSTELLATION GREY REVERSE
J180 CONSTELLATION BLUE REVERSE
J172 BRUSH CARBON REVERSE
Barrington Canvas Colours
Standard Componentry Colours
All swatch examples shown are part of our core range, however, we do have many other options available and can source from other suppliers if necessary.
Actual product colours may vary, due to different device screen settings, the lighting in the installation location, and other potential factors.
FAQs about Wire Guide Awnings