Sheer Elegance Blinds Newcastle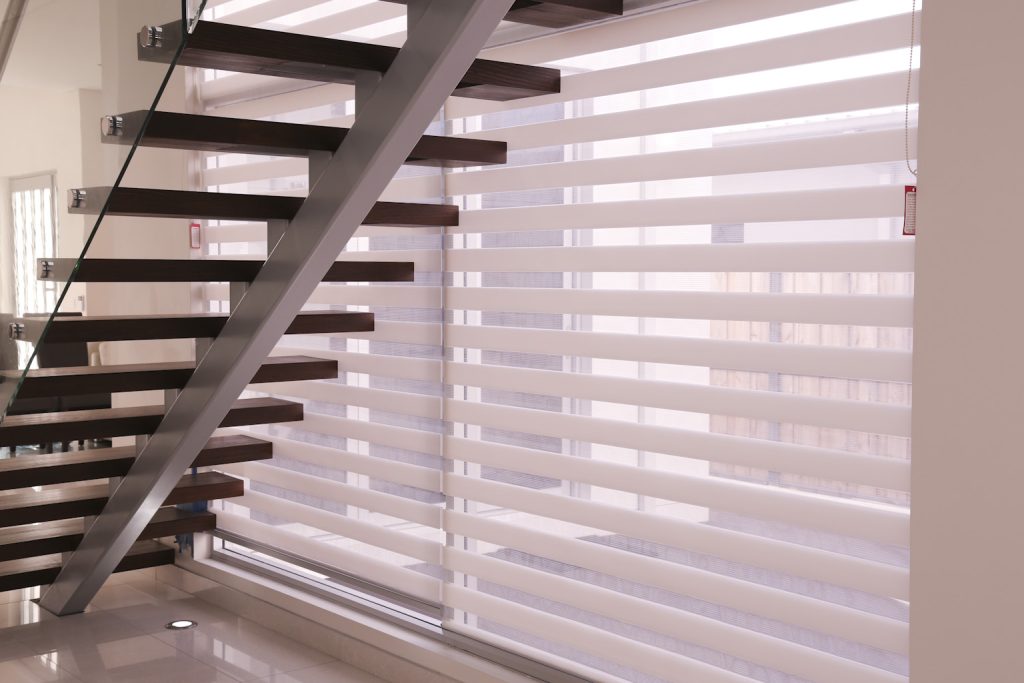 Sheer Elegance Blinds offer exceptional control over light and privacy in your home
Also known as Double Vision Blinds or Zebra Blinds, Sheer Elegance Blinds are guaranteed to improve comfort and privacy inside your home.
Featuring blockout, opaque and transparent strips, Sheer Elegance Blinds look like Traditional Shutters while maintaining visibility, privacy and light control indoors. Let the sunshine in, soften daylight and reduce glare or close the Blinds for complete privacy any time of day. The choice is yours with Sheer Elegance Blinds!
Contact us
for more information about Zebra Blinds, or book a free measure and
quote
now! Our team will be on hand to provide helpful tips and advice based on your family's needs and design ideas.
Combine opaque and blockout fabrics with our stylish Sheer Elegance Blinds
Double Vision Blinds, Zebra Blinds or Sheer Elegance Blinds are a versatile alternative to Traditional Venetian Blinds and Shutters. Thanks to the combination of lightweight sheer fabrics and blockout panels, you can have Shutter-look Blinds and maintain your view of the Great Outdoors simultaneously – roll them up to let the sunshine in, completely close them for exceptional privacy, or choose somewhere in-between! They're the perfect solution for homeowners looking to achieve the best of both worlds.
Plus, Sheer Elegance Blinds come in both manual and motorised configurations for your ultimate convenience. Choose from a simple, neat, tidy chain or cord system, or choose our clever motorised option — whatever you choose, we'll ensure it's installed for smooth, effortless operation.
Contact us to book a free measure and quote today!
Our Sheer Elegance or Double Vision Blinds are available in a wide range of high fashion colours, patterns, textures and fabrics, so you can curate a design that matches (or stands out) from the existing decor. Choose from dramatic metallic finishes, chic sheer fabrics and timeless natural woven effects — whether you want a warm, romantic atmosphere or a sleek, minimalist design, we can create the Double Vision Blinds you've always "envisioned" in your home.
Can't quite picture them in the space? Contact us to book a free design consultation! Our design specialists can visit you at home and share hundreds of fabric samples, so you can compare the existing colour scheme to the countless options we have available.
Double Vision Blinds are available in a huge range of unique shapes and sizes — plus, we make all of our products to measure, ensuring we can install stunning Double Vision Blinds in almost any space. However, there are some small limitations to keep in mind:
Maximum width: 2700mm (depending on the fabric)
Maximum height: 3000m
Maximum coverage: 9m2
Maximum frame depth: 60mm.
Of course, if you have a much larger space in need of window furnishings, we have an incredible selection of other products that can meet the desired height! Contact us for more information about Zebra Blinds — we can design something to fit like a dream.
The initial design consultation
You're welcome to come and visit us at our showroom in Warners Bay (15 minutes from the Newcastle CBD), where we have scores of products and fabric samples on display. Alternatively, we can book a convenient time to visit your home, analyse the space and provide product recommendations in-person! We'll bring along our fabric samples so you can compare the colours, patterns and designs to the colour scheme of your home.
We're committed to providing great service, which is why we'll help you find the perfect balance between style, functionality, value and price!
During the initial design consultation, we'll take precise measurements of the window or space to provide a competitive quote. We never "guesstimate" when it comes to our quotes — we base our prices on the size of the window/space and the product of your choice.
Remember, this is a 100% free service!
Once you have approved the final designs, we'll send the plans off to be manufactured in one of our factories in Australia or Asia. When they return to us here in Warners Bay, we'll be in touch to book the installation of your new Sheer Elegance Blinds!
Our products come with a long warranty, which is why we always install them ourselves. We want to preserve your warranty and ensure your new investment functions smoothly from day one!
Plus, we'll make sure to clean up after ourselves after we've completed the installation. We'll treat your home like it's our own and ensure we leave it looking better than when we arrived… mostly because we've just installed your new Double Vision Blinds!
About our collection of Sheer Elegance Blinds
Blockout Fabrics & Colours
Blockout Nantucket Driftwood
Blockout Umbria Chocolate
Blockout Umbria Midnight Blue
Blockout Vicenza White Gold
Blockout Vicenza Chocolate
Blockout Vicenza Charcoal
Light Filtering Fabrics & Colours
Actual product colours may vary, due to different device screen settings, the lighting in the installation location, and other potential factors.
FAQs about Sheer Elegance Blinds