Multi Stop Channel Awnings Newcastle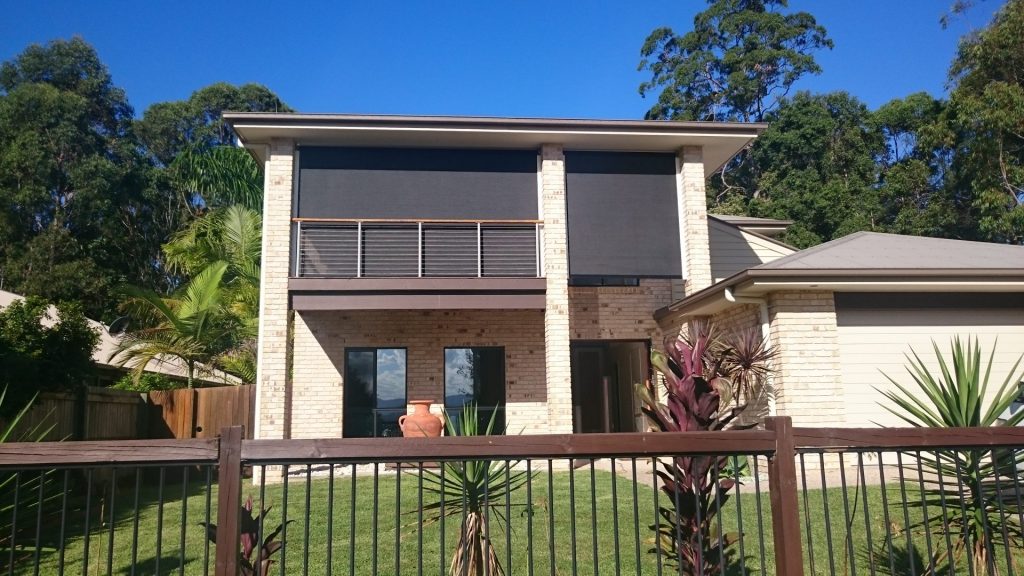 Enhance your outdoor entertaining experience with Multi Stop Channel Awnings
Looking for a smart, cost-effective Outdoor Blind? Look no further than our Multi Stop Channel Awnings! These Outdoor Blinds are designed to seal alfresco areas, decks, balconies, windows and doors from the elements, making the space more private, intimate and comfortable in any weather. 
With a unique locking mechanism, this Multi Stop Awning is quick and easy to use — simply twist the bottom rail to lock the Awning into place. It's never been simpler to entertain in the Great Outdoors!
Contact us
for a high quality product that adds function and style to your home. We offer free in-home design consultations throughout Newcastle and the Hunter Region.
Sleek and stylish, Multi Stop Awnings are perfect for homeowners who love the Great Outdoors
Multi Stop Channel Awnings are traditional Straight Drop Awnings with channels down each side, guiding the five-sided bottom rail up and down. The Awning can be locked and unlocked into position by twisting the bottom rail.
This Multi Stop Channel Blind has no cords, cables, cleats or visible wires that take away from the sleek and modern look. Plus, it can be custom-made to suit most windows and apertures up to five metres wide!
Contact us for more information about this unique Outdoor Blind, or book your free design consultation today. We offer in-home visits throughout Newcastle, Lake Macquarie, Port Stephens, Maitland and the Hunter Valley.
This Multi Stop Blind is 100% customisable so that you can achieve a sleek and modern look. Our weather-resistant fabrics are available in an extensive range of contemporary colours — likewise, our powder-coated componentry comes in six stylish colours to blend into your home design or become a stunning focal point. You can even opt for custom powder coating from the Dulux Colorbond range if our six standard colours don't suit the space. 
Contact us for a free measure and quote today!
Still not sold? Multi Stop Channel Awnings come with a huge range of attractive benefits!
Quick and simple to install. This unique Outdoor Blind can be installed in a matter of minutes — we'll be in and out of your home before you know it!
Cost-effective. Even with customisation, our Multi Stop Channel Blinds are among the most cost-effective Channel Blinds on the market.
Available in a wide range of fabrics and designs. Choose from a wide range of durable materials, including mesh/screen, PVC, acrylic and canvas.
No need to secure it to any fixings. The clever five-sided bottom rail allows you to pull down and secure the Awning without needing to attach it to any fixings. The unique locking system will automatically stay in place.
No cables or cords. These Awnings are controlled entirely by the bottom rail, so there are no cables or cords to take away from the Awning's aesthetic. 
Contact us for a free measure and quote today!
The initial design consultation
You're welcome to visit our showroom in Warners Bay (15 minutes from the Newcastle CBD), or we can organise a time to visit you at home. Our team will take detailed measurements of the space and provide expert advice to ensure you receive the best possible shade solution for your home. We'll also listen to your design ideas and share fabric samples so that you can compare colours and textures to your home's facade.
We offer in-home consultations throughout Newcastle, Lake Macquarie, Maitland, Port Stephens and the Hunter Valley.
During our initial design consultation, we'll take meticulous measurements of the space to provide a competitive quote. We never "guesstimate" — we base our prices on the product, the customisation and the size of the space. 
This is a 100% free service, and there's no pressure to make a decision on the day. We'll leave you with a quote and some fabric samples to mull over before deciding to purchase.
Once you've approved the finer details of your new Multi Stop Awnings, we'll send the designs off to be manufactured in one of our factories in Australia or Asia. Soon enough, we'll be in touch to book the installation!
We offer a long warranty on all of our products, so it's important for us to complete the installation ourselves. We have the expertise and product knowledge to secure your warranty and ensure your investment functions as well as we promised. 
Plus, when we say we take care of everything, we mean it! We always clean up after ourselves and leave your home looking better than when we arrived… Mainly because we've just installed some brand new Multi Stop Channel Awnings!
Free in-home design consultation
About our Multi Stop Channel Awnings
Docril & Dickson Acrylic Colours
D107 MANOSQUE DARK YELLOW
J179 CONSTELLATION BEIGE REVERSE
J177 CONSTELLATION CURRY REVERSE
J178 CONSTELLATION GREY REVERSE
J180 CONSTELLATION BLUE REVERSE
J172 BRUSH CARBON REVERSE
Barrington Canvas Colours
Standard Componentry Colours
All swatch examples shown are part of our core range, however, we do have many other options available and can source from other suppliers if necessary.
Actual product colours may vary, due to different device screen settings, the lighting in the installation location, and other potential factors.
FAQs about Multi Stop Channel Awnings