Panel Glide Blinds Newcastle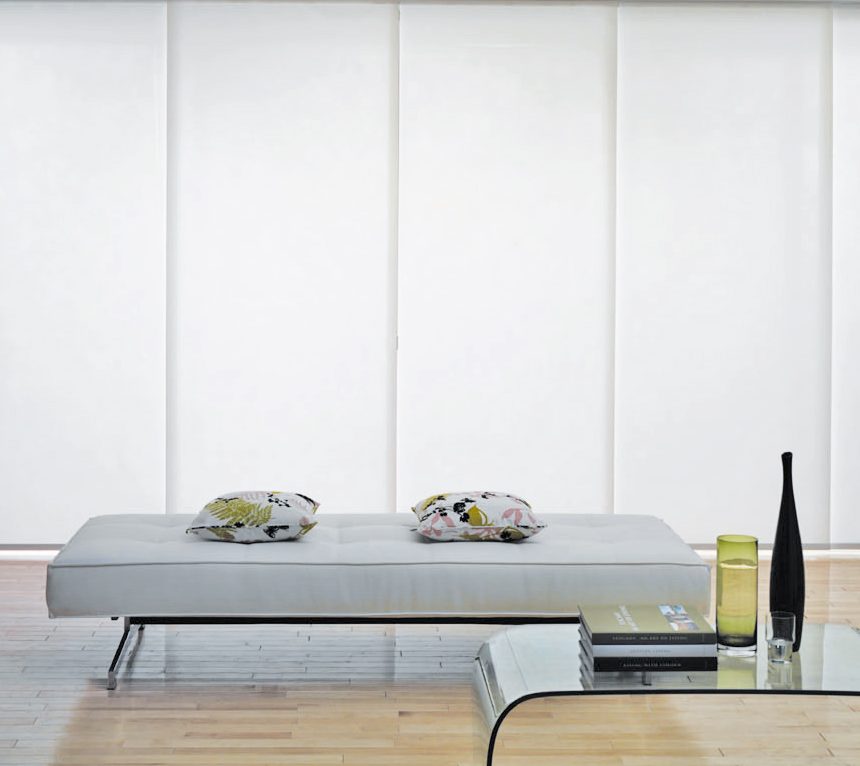 The top designer & supplier of Panel Glide Blinds in Newcastle
Love the concept of room dividers and sliding doors over traditional walls? Panel Glide Blinds are the perfect solution! A stylish alternative to solid walls, Vertical Blinds and Roman Blinds, Panel Glide Blinds are made up of luxurious fabric and feature a velcro attachment between each panel, so you can easily disconnect and reconnect them when required. 
Plus, if you're looking to add Roller Blinds, Roman Blinds or Vertical Blinds to the mix, we have an incredible range of matching fabrics, colours and designs to create a consistent theme throughout the space!
Contact us to book a free design consultation, measure and quote now! You're welcome to visit our showroom in Warners Bay NSW, or we can organise to visit your location when convenient.
Panel Glide Blinds are the smart & convenient way to protect your home from the sun
Panel Glide Blinds are the perfect choice for sliding doors and large glass windows. Featuring a sleek aluminium tracking system (or a mounted ceiling system), Glide Panel Blinds are smooth and simple to operate, no matter the size of the space. You can choose how much light spills into the room — the panels will simply glide into place, no matter where you want them to go. 
Panel Glides are incredibly versatile and stack left, right or split on either side, so you can open up the space and allow the light to shine in. The panels stack away with ease, taking up minimal space and maintaining a minimalist design. 
Learn more about our Glide Panel Blinds below, or contact us for an obligation-free measure and quote now!
Panel Glide Blinds can be customised in more ways than one. Because all the fabric panels are individually connected with velcro, you can mix and match with different colours, patterns and styles on one tracking system. You can even choose the width of each fabric panel — your windows will be modern and eye-catching with a set of custom Panel Blinds!
The operation of your Panel Glides is also customisable — choose from a simple clutch cord, or opt for a more child-friendly option with our wand operation Panel Blinds. Smooth, seamless and easy to use, you have complete control over the sunlight and privacy in your home.
Contact us for the Custom Panel Glide Blinds Newcastle homeowners love. We offer obligation-free design consultations in Newcastle, Maitland, Lake Macquarie and surrounding areas.
Our Panel Glide Blinds are a must-have for homeowners looking to save on space. Whether you're looking for window furnishings in a smaller room like a study, bedroom or dining room, our Glide Blinds are wonderfully subtle. The discrete tracking system blends into the window or doorway as the fabric panels stack away when not in use. 
Contact us to learn more about these revolutionary room dividers!
The initial design consultation
You're welcome to visit our showroom in Warners Bay (15 minutes from the Newcastle CBD), or we can organise a convenient time to visit you at home and analyse the space. We'll bring along countless fabric samples and offer expert recommendations based on the size and shape of the window, doorway or room. 
We're committed to providing amazing service, so we'll ensure your new Panel Glide Blinds balance style, functionality, value and price. 
We offer free design consultations throughout Newcastle, Lake Macquarie, Maitland, Port Stephens, the Hunter Valley and beyond — contact us to book a consultation today!
During our initial design consultation, we will take precise measurements of the window or doorway so we can provide an incredibly competitive quote. We don't "guesstimate" when it comes to our quotes — we base our prices on the size of the space and your chosen product.
Remember, this is a 100% free service!
Once you have approved the final details of your new Panel Glide Blinds, we'll send the plans off to be manufactured in one of our factories in Australia or Asia. When they return to our showroom in Warners Bay, we'll be in touch to book the installation! 
When we say we take care of everything, we mean it. We'll complete the installation and ensure your new investment functions exactly how we said it would — plus, we'll leave your home looking better than it did before we arrived… We clean up and treat your home like it's our own! 
Installing our own products is important to us. We want to preserve your warranty and ensure our products look as good as they function! Allow us to do the heavy lifting — we're experts when it comes to the installation of Panel Glide Blinds in Newcastle.
About our Quality Panel Glide Blinds
Blockout Fabrics & Colours
Light Filtering Fabrics & Colours
All swatch examples shown are part of our core range, however, we do have many other options available and can source from other suppliers if necessary.
Actual product colours may vary, due to different device screen settings, the lighting in the installation location, and other potential factors.
FAQs about Panel Glide Blinds