Plantation Shutters Newcastle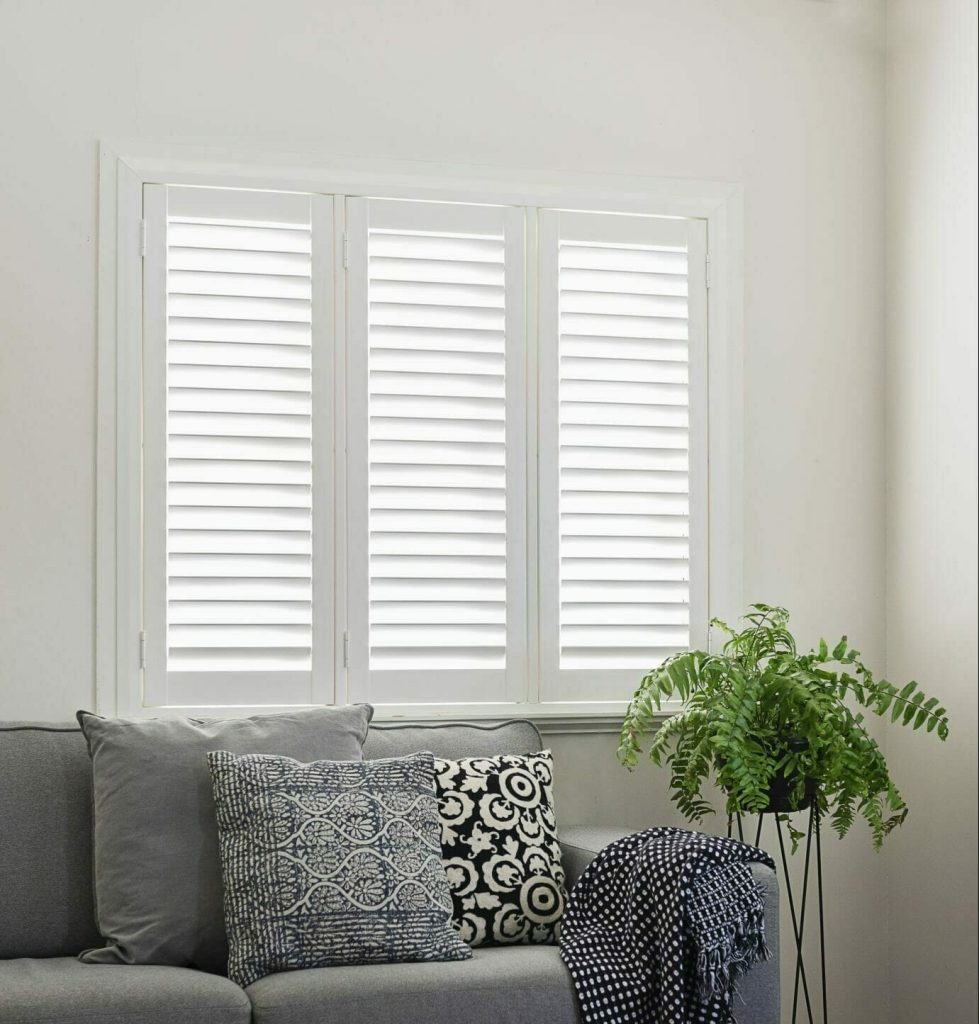 Our Newcastle Plantation Shutters are leading the way in style and elegance
Whether you need more control over warmth and sunlight in your home, or you're looking to add some extra detail to the interior or exterior design of your home, we can always recommend a set of stunning Plantation Shutters in Newcastle. 
A popular and traditional choice for homeowners throughout Newcastle, Lake Macquarie, Port Stephens and the Hunter Valley, Plantation Shutters are elegant and simple to use — a functional, stylish addition to any space.
No matter your home's interior or exterior design, we have Plantation Shutters for sale that will easily complement the space. Contact us to book a free consultation — our team can visit your location to analyse and measure the space.
Modern Plantation Shutters for sale in Newcastle, the Hunter Valley, Lake Macquarie & Port Stephens
Looking for durable, functional and water-resistant shutters with the look and feel of natural timber? Look no further than our PVC Plantation Shutters. Our PVC Shutters are made from one of the highest quality polymer composites on the market, resulting in a strong and durable PVC Shutter that looks just like timber. These Shutters are suitable for any room in the house, including wet areas like bathrooms and laundry rooms.
Our PVC Shutters offer the best insulation out of all of our Shutters, meaning you can maintain warmth indoors during winter and keep heat out during summer. Plus, this particular window furnishing is available with our Nightfall System for 100% light block — perfect for nurseries and bedrooms for shift workers.
Available in a wide range of standard colour options and functions (e.g. hinged, fixed to sliding or bi-fold), our stunning PVC Plantation Shutters can be installed on windows, sidelights, internal spaces, sliding doors, bi-folding doors and even hinged or French doors — the installation options are truly endless with Pazazz Blinds & Shutters. 
Browse through our collection of PVC Shutters and contact us to book a free consultation. You're welcome to visit us in-store, or we can come to your location at a convenient time!
Alongside our Timber Plantation Shutters for sale, we also offer sleek Aluminium Shutters for long-lasting performance and style.
Our Avenir Range of Internal Aluminium Shutters allows us to achieve the best look possible with micro-end caps. Made from lightweight aluminium, our Internal Shutters are smooth, sleek and easy to operate.
Our External Aluminium Shutters are also available in two premium designs — the Weatherwell and Allure Shutters. The Weatherwell Range has metal end caps for a more consistent look and durability, while our Allure Shutters have a textured matte finish option for less cleaning and zero fingerprints. Designed to withstand the harshest of winds and rain in the Newcastle area, our External Aluminium Shutters are built to last. 
Whether you're looking for Internal or External Aluminium Shutters, Pazazz Blinds & Shutters will deliver a stunning, functional solution for your home or business.
When it comes to window furnishings, Timber Plantation Shutters are a popular choice in Newcastle homes and businesses. Earthy, warm and traditional, our Timber Plantation Shutters in Newcastle are available in two exclusive designs — the Basswood and Wildwood Shutters. 
Our Basswood Shutters come in either a classic stain or a painted finish to suit the style of your home, while our Wildwood Shutters are exclusive to Pazazz — with a completely unique wood grain finish, these Shutters are a beautiful feature in almost any space. Plus, our Wildwood Shutters come with a concealed tilt-rod, focusing on the texture of the timber.
Contact our team to book a free consultation and see the different colours and textures available for your new Timber Plantation Shutters!
The initial design consultation
You're welcome to visit our showroom in Warners Bay — alternatively, we can come to you so you can browse through our range of window furnishings, colours, materials and more in the comfort of your home. Our experts will listen to your ideas, analyse the space and offer expert recommendations and advice to bring your vision to life. 
We'll find the best products to complement the existing interior design or provide a focal point for a whole new design. We know it's important to balance style, value and function, and we'd be happy to provide guidance.
During the initial design consultation, we'll take some measurements to provide a competitive quote based on your chosen Plantation Shutters and the window size. We don't "guesstimate" — we use accurate measurements so we can provide the most competitive quote possible and ensure your Plantation Shutters fit like a dream. 
This is all a free service from Pazazz Blinds & Shutters!
When we say we take care of everything, we mean it. Our installation specialists are on-hand to ensure your Newcastle Plantation Shutters are installed exactly how they should be. 
Our installation team will treat your home like it's their own and clean up after themselves — we'll leave your home looking even better than when we arrived!
Plus, we offer a long warranty on all of our products — it's important that our products are installed in a way that will ensure they look and function perfectly for years to come.
FAQs about our Plantation Shutters