Straight Drop Awnings Newcastle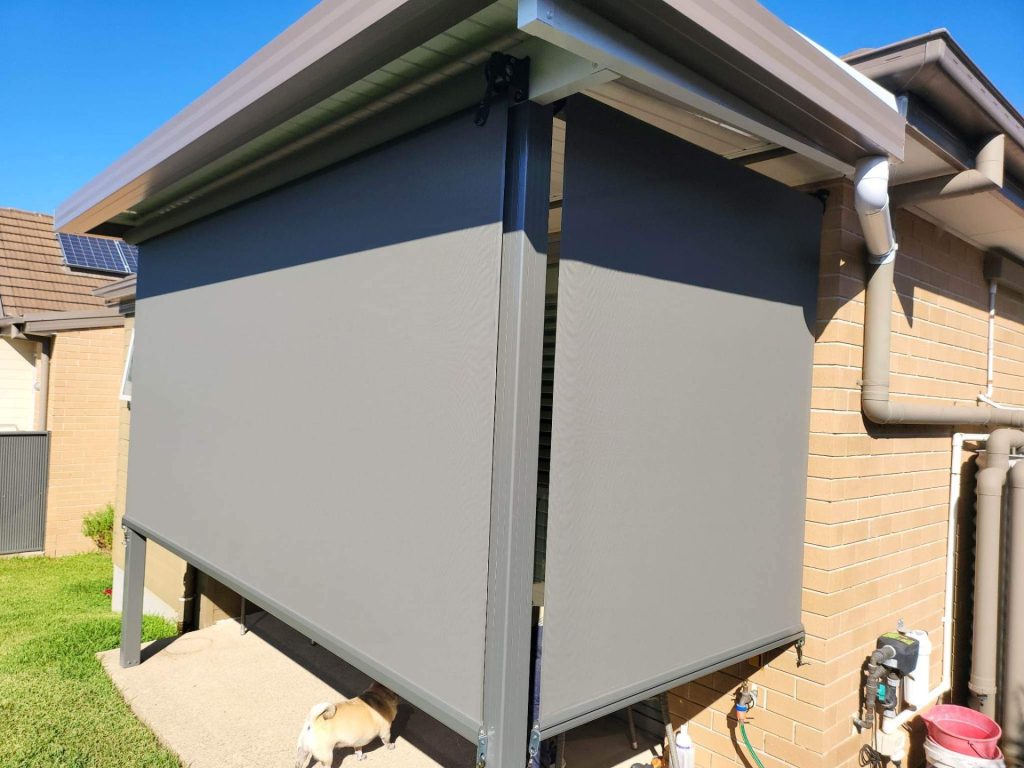 Cost-effective and stylish, straight drop awnings are a must-have!
Looking for a flexible outdoor shade solution? Look no further than Straight Drop Awnings. Perfect for alfresco areas, decks, verandahs, patios or anywhere they can be mounted, Straight Drop Awnings fit seamlessly into almost any space — simply wind them down and secure them to the floor, wall or balcony to enjoy peace and privacy in your outdoor entertaining area.
Straight Drop Awnings are a winner for local homeowners with quick and easy operation and an affordable price tag! Contact Pazazz Blinds & Shutters to have Straight Drop Awnings custom-made for your home today — we offer free design consultations throughout Newcastle, Maitland, Port Stephens, Lake Macquarie and the Hunter Valley.
Simple and stylish, straight drop awnings are perfect for any home design
Straight Drop Awnings are designed with ease of use in mind. Simply wind your Awning down and secure it to the floor, wall or balcony — you'll instantly have a private paradise, protected from the elements and the harsh Australian sun. For your ultimate convenience, our Straight Drop Awnings can be crank-operated, spring-loaded for easy pull-down, or motorised to open and close at the touch of a button. The choice is yours at Pazazz Blinds & Shutters!
Get in touch for an obligation-free quote! We offer free in-home design consultations throughout Newcastle, Lake Macquarie, Port Stephens, Maitland and the Hunter Valley.
By choosing Pazazz Blinds & Shutters, you're opening up a world of design opportunities! Our Straight Drop Blinds come in a range of durable materials, each with its own unique benefits.  
Mesh/Screen — This woven material is ideal for maintaining airflow while still getting some protection from the wind, sun and rain. Plus, mesh offers between 85% and 100% protection against the elements.


PVC — We recommend PVC for clear views, protection against the elements, and an Awning that's completely rain and wind-proof. PVC Awnings can also help retain warmth in your outdoor entertaining area in winter.


Acrylic — This material is perfect for the Great Outdoors. It offers excellent protection against glare, heat and harsh UV rays and won't fade in the hot Australian sun.


Canvas — This material is available in various colours, patterns and prints and offers excellent protection against storm debris and the elements. 
Contact us for more information about our Awning materials! We can provide expert recommendations and advice to ensure your Straight Drop Awnings are suited to the unique climate of your local area.
The initial design consultation
You're welcome to visit our showroom in Warners Bay NSW (15 minutes from the Newcastle CBD), or we can organise a visit to your home where we can analyse the space, take some measurements and provide personalised advice based on the dimensions of your outdoor entertaining area. 
We'll bring along fabric samples so you can compare colours and textures to the existing decor.
During our initial design consultation, we'll take detailed measurements of the space to provide a competitive quote. We never "guesstimate" when it comes to quotes — we base our pricing on the size of the window or verandah and the product you've chosen.
Remember, this is a 100% free service, and there's absolutely no pressure from us! We'll provide a written quote for you on the day, so you can have some time to consider your purchase. We'll always offer you the best price upfront.
Once you have approved all the details of your new Awnings, we will send the designs to be manufactured in one of our factories in Australia or Asia. Once they've come back to our showroom in Warners Bay, we'll be in touch to book the installation!
We offer a long warranty on all of our products, which is why it's important for us to install them ourselves. We want to secure your warranty and ensure your new Straight Drop Awnings function perfectly for years to come.
Free in-home design consultation
About our Straight Drop Awnings
Traditional
Features
Improved privacy
Versatile system perfect for almost any outdoor area
Sun & weather protection all year round
Manually operated or Motorised
Huge range of fabric options
Specifications
Fabric types: Mesh, Acrylic, Canvas & PVC
Max width: 7000mm
Max height: 3450mm
Custom powdercoating available
Operation Types
Manual Crank
Manual Spring Loaded
Hardwired 240V Motor
Solar 12V Motor
Guarantee
5 Year warranty on componentry
10 Year warranty on most fabrics
7 Year warranty on most Motors
Acmeda
Docril & Dickson Acrylic Colours
D107 MANOSQUE DARK YELLOW
J179 CONSTELLATION BEIGE REVERSE
J177 CONSTELLATION CURRY REVERSE
J178 CONSTELLATION GREY REVERSE
J180 CONSTELLATION BLUE REVERSE
J172 BRUSH CARBON REVERSE
Barrington Canvas Colours
Standard Componentry Colours
All swatch examples shown are part of our core range, however, we do have many other options available and can source from other suppliers if necessary.
Actual product colours may vary, due to different device screen settings, the lighting in the installation location, and other potential factors.
FAQs about Straight Drop Awnings