Shop Awnings: Newcastle & Lake Macquarie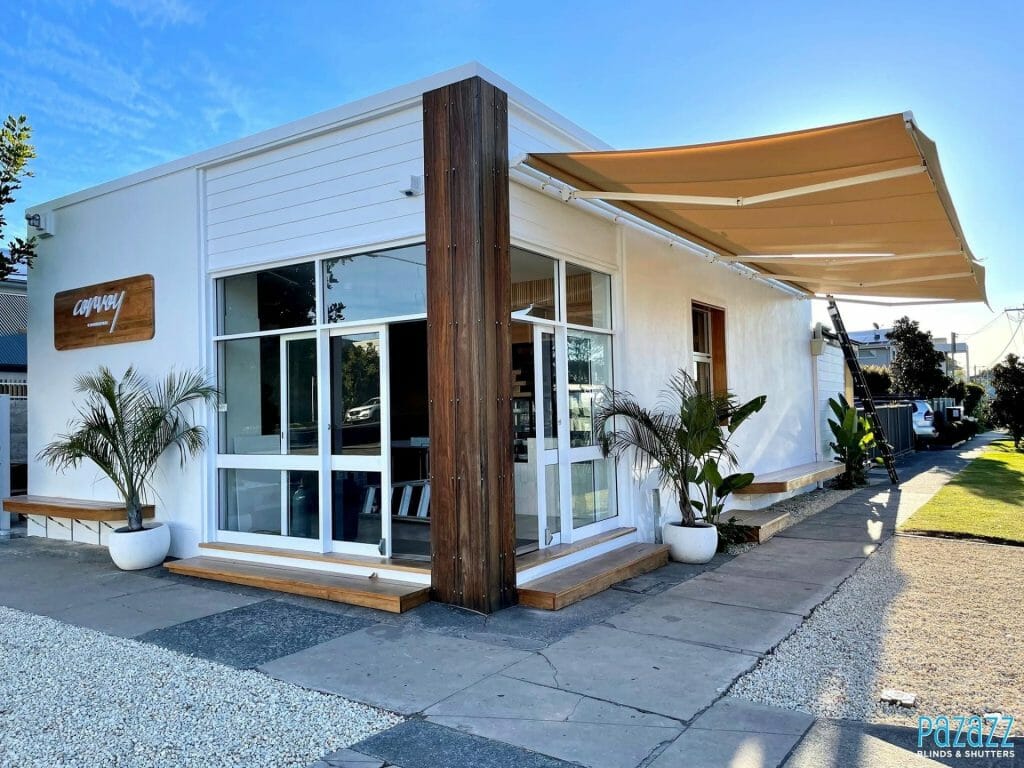 Stylish Shop Awnings to attract customers & improve their shopping experience
Commercial Shades and Blinds are an important part of designing an attractive business. Shop Awnings are particularly important for outdoor spaces, like dining areas and window shopping opportunities where customers need shelter from the weather. With the right shading and protection from the elements, your customers can have a memorable experience with you and your team, no matter what!
At Pazazz Blinds & Shutters, we design and manufacture Commercial Awnings that are designed to withstand the weather and improve your customers' shopping experience. With 100s of fabric and design options available, we can design something 100% unique to "wow" your crowds. 
Get in touch to book a free design consultation today! Our team will share expert recommendations and advice to enhance the look and feel of your workplace.
100s of colours, fabrics and designs to match the look and feel of your workplace
The initial design consultation
You're welcome to visit us at our showroom in Warners Bay NSW (15 minutes from the Newcastle CBD), or we can organise a convenient time to visit your workplace! Our team will analyse the space and listen to your business's unique design and functionality requirements, then provide expert recommendations and advice to ensure you get the investment you desire. 
We'll also bring 100s of fabric samples so that you can compare colours, patterns and textures to your business's decor.
During our initial design consultation, we'll take precise measurements of the windows and doorways so that we can provide a competitive quote on the spot. We never "guesstimate" when it comes to our quotes — we base our prices on the product and the size of the window or doorway. 
Remember, this is a 100% free service with no obligations.
Once you have approved the final details of your Commercial Awnings or Roller Blinds, we'll send the designs to be manufactured in one of our factories in Australia or Asia. When they return to us here in Warners Bay, we'll be in touch to book installation. 
We offer a long warranty on all of our products, so it's important that we take care of the installation ourselves. We want to secure your warranty and ensure your new investment functions the way we promised it would!
FAQs about Commercial Shades and Blinds