Pivot Arm Awnings Newcastle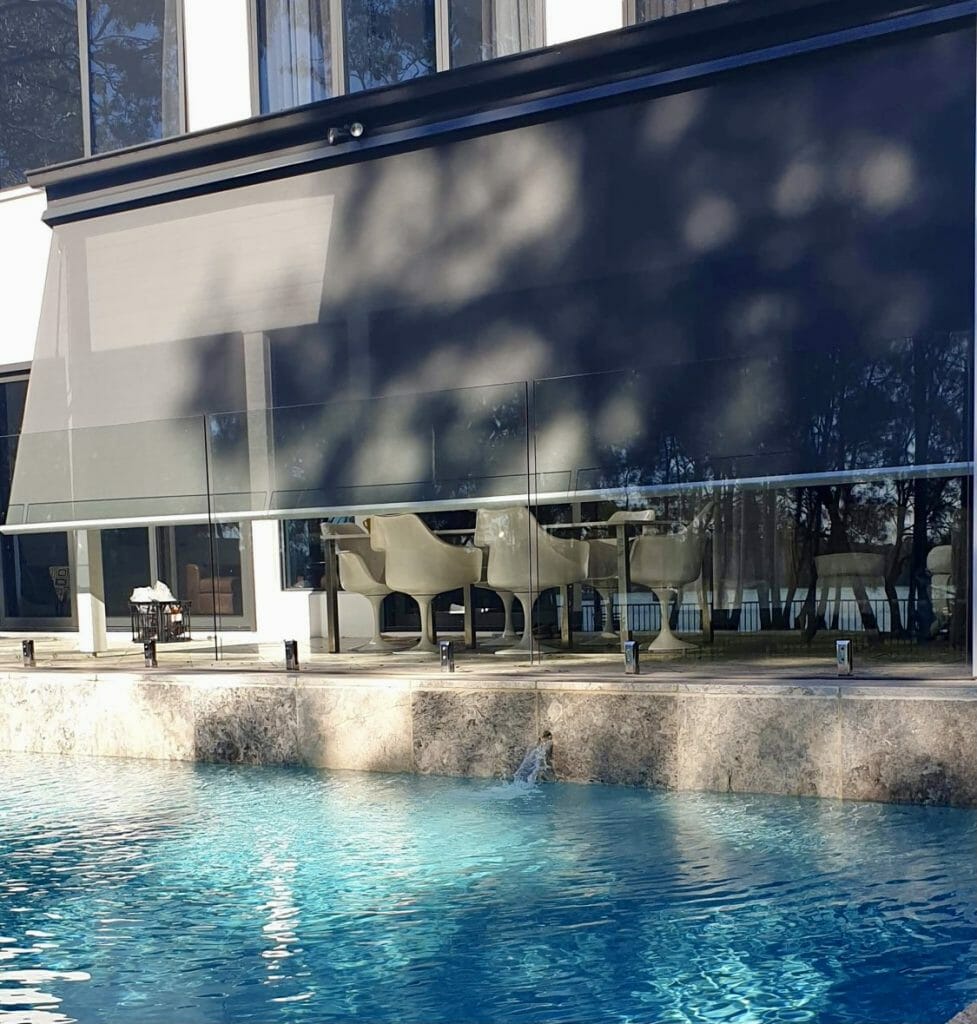 Our clever Pivot Arm Awnings are perfect for almost any window!
Like our Automatic Awnings, Pivot Arm Awnings suit almost any window or space — including second-storey windows and balconies! Pivot Arm Awnings can be installed with an internal manual winder or motorisation system, so you can control how much sunlight spills into your home from indoors. 
Our Pivot Awnings are also fully customisable, so you can design something 100% unique that adds value, style and functionality to your home. Choose from hundreds of colours, patterns and designs — the choice is yours at Pazazz Blinds & Shutters!
Contact us
to book a free design consultation and
quote
! We offer installation throughout Newcastle, Port Stephens, Maitland, Lake Macquarie and the Hunter Valley.
Pivot Arm Awnings offer flexibility, convenience and a contemporary new look!
Pivot Arm Awnings are a popular kind of Outdoor Awning with a pivot arm that extends and retracts in an arc shape. Suitable for domestic and commercial applications, Pivot Arm Awnings give you complete control over sunlight and privacy while offering superior airflow throughout your home or business. 
The unique rotating arm technology allows you to control the Pivot Arm Awning and stop it at any angle. Plus, we offer various control options at Pazazz Blinds & Shutters — a manual crank handle or internal winder, a remote control, or motorised with a 240V hardwired motor or 12V solar motor.  You can even connect your Pivot Awnings to your home automation system, so you can program them to rise and fall at a specific time of day, or in certain weather conditions.
Contact us for a free quote and design consultation today! Let's design a Pivot Arm Awning that adds value and style to your home or business today.
Our Pivot Arm Awnings are completely customisable, from the operation type to the colours, patterns and textures. Our Awning fabric is available in an incredible range of colours, designs and materials, while the componentry is available in 15 high-quality colours. You can mix and match colours to create something traditional or something more contemporary to add value to your home. 
During our initial design consultation, we'll share hundreds of fabric samples in various colours and patterns, so you can compare designs in-person and choose an Awning fabric that suits the space.
Contact us to book your free design consultation today!
Still not sold? Pivot Arm Awnings come with a wide range of attractive benefits.
Offers complete control over sunlight and privacy. You can lower your Pivot Arm Awnings to any level, allowing you to improve privacy and increase or decrease the amount of sunlight that spills into your home or business.
Encourages airflow and recirculation. The triangular design creates space for air to recirculate. Warmer air moves upwards and outwards and is replaced by cooler air in your home or business.
Ideal for almost any window. Pivot Arm Awnings can even be installed in second-storey windows.
Completely customisable. We have hundreds of colours, patterns and material combinations available as well as 15 quality componentry colours to choose from.
Can be linked to a home automation system. You can program your Awnings to rise and fall at certain times of the day or in nasty weather conditions (note: available with 240V motorisation only).
Contact us to book your free design consultation today.
The initial design consultation
You're welcome to visit our showroom in Warners Bay (15 minutes from the Newcastle CBD), or we can organise a time to visit your home or business. Our team will analyse the space and take precise measurements while listening to your design ideas and providing recommendations based on your unique needs. 
We'll also bring hundreds of fabric samples so you can compare colours, patterns and materials to the facade of your home or business.
During our initial design consultation, we'll take meticulous measurements of the space to provide a detailed, competitive quote. We never "guesstimate" when it comes to our quotes — we base our pricing on the product, the customisation and the size of the window. 
This is a 100% free service, and there's no pressure to make a decision on the day. We'll leave you with a quote and some fabric samples to consider before taking the plunge and purchasing some new Pivot Arm Awnings!
Once you have approved all the finer details of your Pivot Arm Awnings, we'll send the designs off to be manufactured in one of our factories in Australia or Asia. When they return to our showroom in Warners Bay, we'll be in touch to book the installation!
We offer a long warranty on all of our products, so it's important that we install your Pivot Arm Awnings ourselves. We have the expertise to secure your warranty and ensure your new investment functions as well as we promised. 
Plus, when we say we take care of everything, we mean it. We always clean up after ourselves and leave your home looking better than when we arrived… Mainly because we've just installed some stunning Pivot Arm Awnings!
Free in-home design consultation
About our stylish Pivot Arm Awnings
Docril & Dickson Acrylic Colours
D107 MANOSQUE DARK YELLOW
J179 CONSTELLATION BEIGE REVERSE
J177 CONSTELLATION CURRY REVERSE
J178 CONSTELLATION GREY REVERSE
J180 CONSTELLATION BLUE REVERSE
J172 BRUSH CARBON REVERSE
Barrington Canvas Colours
Standard Componentry Colours
All swatch examples shown are part of our core range, however, we do have many other options available and can source from other suppliers if necessary.
Actual product colours may vary, due to different device screen settings, the lighting in the installation location, and other potential factors.
FAQs about our Pivot Arm Awnings