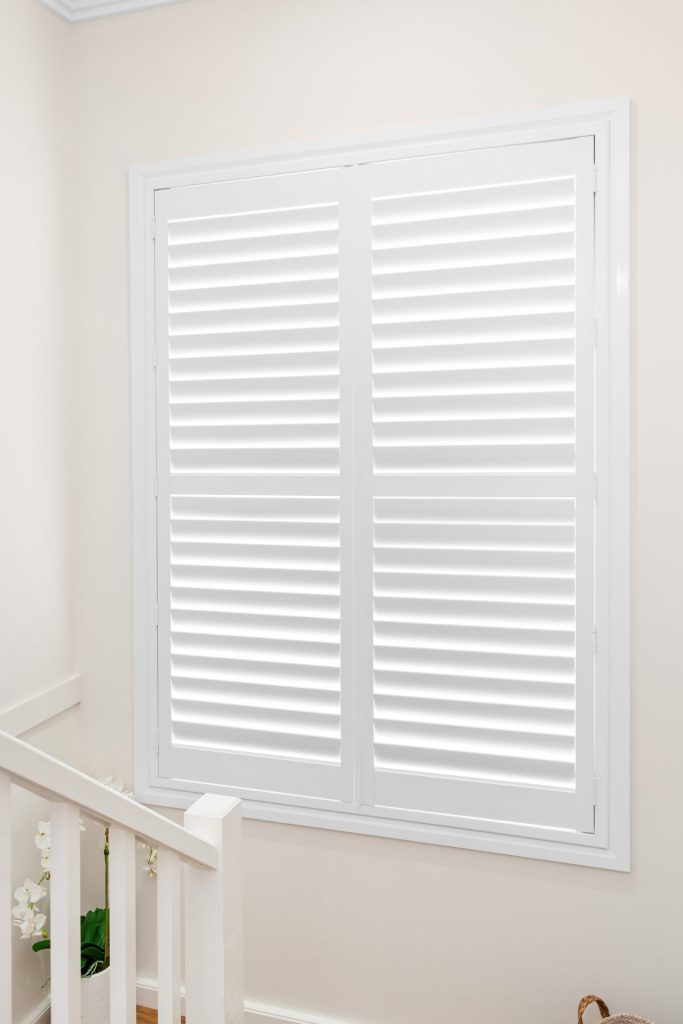 Creating elegant, practical PVC Shutters in Newcastle & Lake Macquarie
Our PVC Shutters offer the strength, stability and precision of man-made materials with the beauty, characters and elegance of natural timber. Suitable for every window in your home (including wet areas), PVC Shutters offer practicality and affordability without compromising on style. 
Our team has been designing PVC Shutters in Newcastle for more than 20 years, and during this time, we've become the go-to team for window furnishings in the area.
Pazazz Blinds & Shutters is a 100% family-owned and operated business. When you call Pazazz, you're not talking to a random salesperson — you're talking to owners Paul, Yazz or another member of the Plenty family. We'll go the extra mile to ensure you get the perfect PVC Shutters for your space. 
Contact us for a free measure and quote today — we'll be in touch to visit your location, take precise measurements of your windows and provide expert recommendations and style advice.
Contemporary PVC Shutters for any home, any space and any budget
PVC Shutters are durable, stylish and practical, making them an excellent choice for homes throughout Newcastle. Made from non-toxic, hard-wearing polymer, our PVC Shutters are moisture and termite-resistant, making them perfect for interior areas like the kitchen, bathroom, laundry or even children's playrooms. 
Of course, PVC Shutters come with more benefits than just their durability. 
The louvres can be opened or closed completely, allowing you to control the amount of light and airflow that enters your home.


The stunning design blends seamlessly into both modern and traditional home designs.


Polymer insulates better than timber and can help to level extreme temperatures. It might even reduce your energy costs!


These Shutters feature a strong aluminium core for extra strength and durability — plus, the polymer will never crack, split, chip or warp.


No harsh chemicals are needed to clean our PVC Shutters — just a damp cloth to remove dust.


Custom-configured, designed and manufactured to suit your unique windows and doors. 
Enhance the feel and functionality of your home in an instant with our stunning range of PVC Shutters. Contact us for a free measure and quote today!
At Pazazz Blinds & Shutters, we are totally committed to customer satisfaction at every stage of the design and manufacturing process. It's important that we help our customers make the best decision regarding sizes, styles, colours and anything else we need to deliver contemporary PVC Shutters in Newcastle.
Our free in-home design consultation service is offered to all our customers to help them find the best products for their needs. 
We're available during business hours by phone for questions that don't require a face-to-face visit, and our customer support email is always open.
The initial design consultation
You're welcome to visit our showroom in Warners Bay — alternatively, we can come to you so you can browse through our range of window furnishings, colours, materials and more in the comfort of your home. Our experts will listen to your ideas, analyse the space and offer expert recommendations and advice to bring your vision to life. 
We'll find the best products to complement the existing indoor/outdoor design or provide a focal point for a whole new design. We know it's important to balance style, value and function, and we'd be happy to provide guidance.
During the initial design consultation, we'll take some measurements to provide a competitive quote based on your chosen PVC Shutters and the window size. We don't "guesstimate" — we use accurate measurements so we can provide the most competitive quote possible and ensure your PVC Shutters fit like a dream. 
This is all a free service from Pazazz Blinds & Shutters!
When we say we take care of everything, we mean it. Our installation specialists are on-hand to ensure your new PVC Shutters are installed exactly how they should be. 
Our installation team will treat your home like it's their own and clean up after themselves — we'll leave your home looking even better than when we arrived!
Plus, we offer a long warranty on all of our products — it's important that our products are installed in a way that will ensure they look and function perfectly for years to come.
Custom Plantation Shutters in Newcastle
Actual product colours may vary, due to different device screen settings, the lighting in the installation location, and other potential factors.
FAQs about our PVC Shutters